University Stores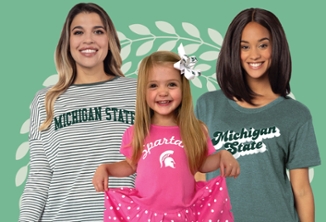 Participating MSU Units
Several MSU colleges and departments sell merchandise on shop.msu.edu, including:
College of Education
College of Engineering
Honors College
College of Human Medicine
College of Law
MSU Libraries
Entomology
MSU Extension...and more!
For personal use, items can be ordered with a credit card.
MSU account numbers are also accepted for departmental purchases via shop.msu.edu. Note that most departmental purchases for items such as office or custodial supplies are made through University Stores—either in person at 166 Service Rd. or through the online catalog in Spartan Marketplace.
Trademark Use
Any person, business or organization with an interest in marketing products bearing the trademarks of Michigan State University needs to first obtain a license through CLC (Collegiate Licensing Company). There are three forms of licenses available with MSU through CLC, a standard license, a local license, and an internal campus supplier license. These different forms of licenses are dependent upon the type of product and how it is manufactured. Please visit the MSU Licensing website for details on how to apply and the applicable fees involved.  
Campus Use: Find a Licensee
Only officially licensed manufacturers with Michigan State University may reproduce items bearing the university name, logo(s) and other trademarks and indicia. This applies to T-shirts and other merchandise made for on-campus use (for use by university departments and campus/student organizations) and for third parties. Licensed manufacturers have been vetted for product quality and carry required product liability insurance. In addition, all licensees are required to comply with fair labor codes. Find a licensee