Mail Services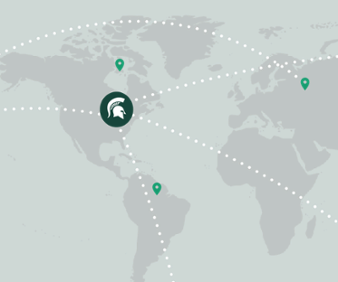 Requirements
Return addresses are required on all outbound international mail for all types of service used. The mailpiece must bear a complete return address in the country of origin where postage is being paid. A customs form is required for international shipments. Visit the USPS International help page for information. 
To reduce processing delays, please separate international mail from domestic US Mail.
---
Service Levels
International Priority Airmail is the most commonly used level of service at Mail Services for MSU international mail, and is the default level used unless another is specified. International Priority Airmail is a volume airmail service that provides rapid and economical worldwide delivery for your business. Invoices, direct mail, catalogs, small merchandise packages, business correspondence—virtually all types of mail weighing up to four pounds can be delivered. 

First-Class Mail International is the most economical way to send letters, small packages, postal cards, printed matter, and small packets 4 pounds and under, worldwide. 

Priority Mail International is an airmail service that provides customers with a reliable and economical means of sending correspondence and merchandise up to 70 pounds to over 190 countries and territories worldwide.

Express Mail International allows for fast delivery of documents and packages to over 190 countries. Send documents and packages around the world at competitively low prices with Express Mail International with service guaranteed to select destinations. 

Global Express Guaranteed (GXG) is the premium international shipping option from the U.S. Postal Service with international transportation and delivery by FedEx Express. GXG offers date-certain delivery in 1-3 business days to more than 190 countries worldwide. 
 
Airmail M-Bags deliver a large amount of mail to a single addressee. M-bags have the following conditions when mailing:
The maximum weight is 66 pounds (including the tare weight of the sack). There is no longer a minimum weight; however, if it weighs 11 pounds or less, the customer will pay the 11-pound rate.
They can be mailed to all destination countries.
All categories of printed matter can be enclosed in an M-bag. Printed matter is defined as paper on which words, letters, characters, figures, images, or any combination thereof, not having the character of a bill or statement of account, or of actual or personal correspondence, have been reproduced by any process other than handwriting or typewriting.
---
Resources

International Postage Calculator
Calculate postage online for the shape, weight, and destination of your mail.

Postage Rates and Restrictions by Country
Find out what you are allowed to mail by destination country as well as service levels, extra services and rates available.

Universal Postal Union—Address Format by Country
Search by specific country to be sure your address is formatted correctly.