Capital Asset Management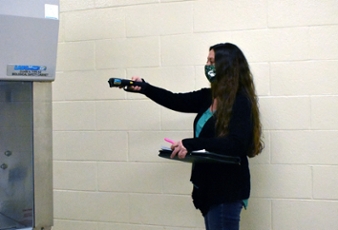 How inventory is conducted
A campuswide physical inventory takes place every year to ensure the equipment can be located and is in proper working condition. The actual physical inventory process is conducted for MSU departments on an alternating year basis by CAM.
---
Instructions: department conducts inventory
Departments will receive a notification letter if it is your year to conduct a physical inventory. Departmental inventories can be done in one of two ways.
Option 1: Submit your equipment inventory report using the Annual Asset Reporting Template.
Follow the instructions at the top. When finished, save and email the template to camhelp@msu.edu. 


Option 2:  CAM has barcode scanners available for use when inventorying equipment. Using scanners reduces the amount of time spent tracking equipment and increases the accuracy of the information being updated. Contact CAM to check out a barcode scanner, scan all of the equipment, and return the scanner. Call 884-6081 for more information or to reserve a scanner.
In addition to the physical inventory 
If there are no changes, write "NO CHANGES" on the top of your signed Certification Form and return it to CAM.
Option 1 is best for departments with few assets, Option 2 is best for departments with many assets.
Instructions: CAM conducts inventory
If CAM is conducting the inventory for you this fiscal year, it is necessary to schedule an appointment with an auditor by June 1. That will allow time to complete the audit by the end of the year.
---
Important
Per the Manual of Business Procedures, Section 224-VI, asset property tags must be affixed to equipment and the asset tag field (within the asset record) must be updated within 30 days of receipt of the equipment.

Equipment cannot be scanned if the tag is not on the equipment and the asset record is updated in KFS. To find out if you have any untagged equipment, run the BI report "Untagged Asset Aging Report-FIN061." 
Follow: Public Folders>Finance Folder>University Finance Reports>CAM - Capital Asset Management.  
Asset records in EBS
Asset records can be updated through the Capital Asset Management system (CAMs) within the Finance System. You must be assigned as Role 6 – CAM Processor to edit or update asset records.
Non-functioning, unused, or cannibalized equipment
Do you have equipment that has been stripped of parts, not working, or not being used? Transfer those assets to the MSU Surplus Store for redeployment or proper disposal.
Manual of Business Procedures – Section 224  
Specific policies regarding capital equipment are detailed in MBP 224.