Procurement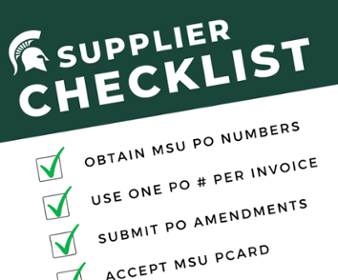 Supplier Eligibility
All prospective suppliers are eligible to solicit business from MSU. Procurement selects the suppliers who meet the requirements of each request for quotation /proposal. All else being equal, MSU gives preference to local suppliers in its campus communities. 
---
Bids
For orders $25,000 or greater, Procurement obtains competitive bids from suppliers. For orders less than $25,000, the decision whether to send out request for quotations is at the discretion of the buyer. When an order is more than $250,000, a sealed bid is issued by Procurement to be returned by suppliers before a specific date and time. Bids are publicly opened at the specified time and bidding suppliers and any interested parties are allowed to attend. Bids are analyzed using several criteria, including price, and the job is awarded to the supplier who best meets MSU's needs.
An RFP requests proposals from suppliers when complex purchases are being considered. Proposals are considered on a best total value basis.
An RFQ requests a quotation from suppliers for firmly specified products or services. Quotations are considered strictly on a cost basis as long as minimum requirements are met.
An RFI requests written information about the capability and capacity of a supplier to provide a specific product or service or to obtain information about new technology. An RFI may be followed up with an RFQ or an RFP.
Purchase Orders, PCard, and Payment
Purchases made by MSU always require a purchase order (PO). It is the supplier's responsibility to obtain a valid PO. Work on an order should not begin and supplies should not be ordered until you receive an official purchase order (PO) from a buyer. Only Procurement may authorize a supplier to provide goods or services via issuance of a PO; verbal authorization from departmental representatives without signature authority will not be recognized and may put the supplier at risk. If a valid PO number does not exist, an invoice cannot be paid, and MSU does not have a legal obligation to pay it.
An exception to the PO requirement is the use of a PCard, issued to select staff and faculty members and administered by University Procurement and Logistics. PCard transactions are small dollar transactions, and certain items may not be charged. Note: a purchase may not be split into multiple charges to circumvent the single purchase spending limit.
Any change in the product or service provided by a supplier from that specified in the PO must be approved in writing by MSU Procurement via a PO amendment (POA) before the supplier provides the goods or services. Changes include, but are not limited to, description, quantity, price, or terms which differ from the original PO.
Terms referenced in the PO are based on date of receipt by Accounts Payable, by default. If deeper discounts are available, more expedient payment can usually be arranged.
The invoice must reference only one (1) PO and must contain:
A valid MSU PO number. This is to include all prefixes and the release number when applicable.
The current name and "remit to" address of the supplier.
Distinguishable, separately invoiced items, each with a description, price, and language matching the language and sequence of the PO.
The freight bill number or tracking number.
Visit our Accounts Payable section for more information on
how to submit an invoice
.
Routing Requirements
Non-compliance with the following shipping instructions and those on the PO resulting in a cost increase, may cause the cost differential to be deducted from the supplier invoice. Payment to you may be delayed.
All purchase orders provide delivery instructions to the supplier. The university's standard shipping instructions require the supplier to ship items to University Procurement and Logistics Central Shipping and Receiving. Exceptions may apply to expedited shipments and off-campus locations.
United Parcel Service (UPS), FedEx Ground, and FedEx Express should be used for all parcel shipments to MSU. Parcel shipments are considered FOB Destination, bill recipient. The supplier is responsible for all carrier claims.
Suppliers are required to ship "Freight Collect" using MSU's preferred Less-Than-Truckload (LTL) carrier, XPO Logistics, whenever possible, for both prepaid and collect shipments. However, all parcel orders requiring expedited services are to ship via FedEx Express or UPS Next-Day/2nd-Day Air, "Bill Recipient."
It is the responsibility of the supplier to ensure that proper packaging is used and that the contents of the package are adequately and securely packed, wrapped, and cushioned for transportation.
All packages must display the MSU PO Number on the shipping label or the package itself. LTL shipments require the PO to be submitted on the carrier bill of lading.
Pallets must be free of broken boards and the items on the pallet should remain within the pallet edges.
The weight of each carton shipped parcel carrier must not exceed 150 pounds.
Use a strong container with all parts intact.
Use box sealing tape designed for shipping.
Remove all old stickers, hazardous material labels, and other shipment markings.
Wrap items separately, using adequate cushioning material; protect items on top, bottom, and sidewalls of carton.
Use environmentally-friendly cushioning materials when possible.
Use a single address label that has a clear, complete return and delivery address.
Suppliers may only take orders for controlled substances by MSU purchase order. If a supplier receives a controlled substance order from anyone at MSU, they are to contact Procurement immediately as special chain-of-custody processes apply.
It is the responsibility of the supplier to ensure compliance with the
Code of Federal Regulations 49 (CFR 49)
and packaging requirements governing hazardous materials. This includes proper identification, labeling, marking, packaging, and emergency response information.
All international suppliers are required to submit a pro-forma invoice for review and validation. The pro-forma invoice must provide the following information:
The name and address of the foreign shipper and/or manufacturer.
The name and address of the importer of record and consignee.
A full and accurate description of the imported merchandise; including the Harmonized Tariff number.
Quantity of the merchandise being imported with net weights and measures included.
The unit price of the imported commodity.
INCO Terms 2000 - DDU or DDP must appear on the commercial shipping invoice.
Invoice date.
Invoice number and PO.
A detailed breakdown of any and all prepaid freight and insurance charges associated with the transaction of sale.
All discounts offered and or taken.
Any selling commissions must be detailed on the invoice.
Invoice must be in English.
A complete invoice value.
Country of origin of the imported merchandise.
A name of a "responsible person" as the preparation party of the invoice.
A statement of commodity use.
Confirmation of inbound gate and broker information detail.
Type of packaging (International Wood Packing Materials Regulations may apply).