News
University Services changes name to University Procurement and Logistics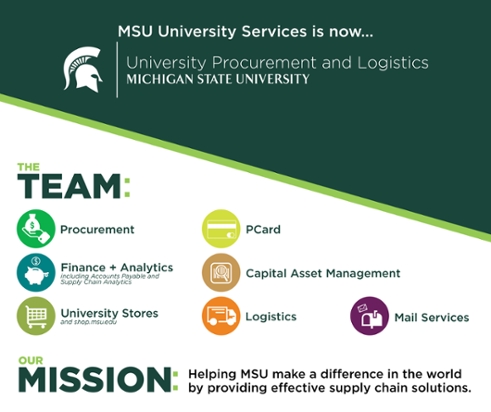 Procurement
MSU's University Services is pleased to announce our new name: University Procurement and Logistics, or UPL for short.

This name more accurately describes the unit's activities of providing expertise in acquiring and managing goods for the MSU community, through UPL's subunits: Procurement (previously Purchasing), Logistics and University Stores, Mail Services, and Finance and Analytics. A refreshed website—upl.msu.edu—has been launched, replacing the previous University Services site.

"As we evolve to meet MSU's changing operational supply chain demands, University Procurement and Logistics clearly says who we are and what we do," said Associate Vice President and Chief Procurement Officer Kristin Demir. "We are focused—now more than ever—on compliance, innovation, cost savings and avoidance, and operating nimbly and effectively in ways that enhance the academic mission of MSU."

UPL is actively engaged with other MSU units and colleges to assist in making informed purchasing decisions by providing analytics and data insights, as well as education on policies and regulations related to procurement, shipping and distribution, and asset management.

As part of our vision, University Procurement and Logistics staff are committed to improving service experiences by finding efficient, sustainable, and inventive ways to meet the MSU community's needs.