Mail Services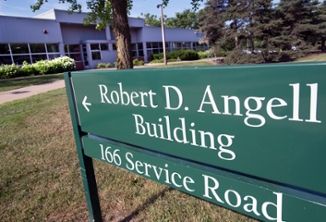 General Addressing
For most mailings, the address should be as close as possible to the center of the envelope. Destination address should be three or four lines and must include an address line, city, state, and zip to be deliverable.
JOE DOE
ABC COMPANY
123 MAIN ST
ANYTOWN NY 12345
Left justify address block information.
Use uniform font size and spacing throughout. Upper case is preferred. 
Keep advertising, logos, and other information clear of the address area.
Use 10-12 point font. Avoid using script or narrow font; san serif fonts work best. Good examples include Arial, Helvetica, OCR-A, and Tahoma.
Mailing internationally? Review International Mail requirements.
Destination Address Block Location
Letters:

Always maintain 1/2" clearance from the left and right sides and at least 5/8" from the bottom of the piece.

Flat Mail (larger than 6 1/8" by 11 1/2"):

The destination address should be a MINIMUM of 1" lower and 1" to the right of the return address, more is preferred.
The destination address block must be clearly separated from any extraneous text and graphics. Provide a minimum clear area of 3/8" (1/2" recommended) in each direction surrounding the address block.
Address Line Order Requirements
USPS equipment reads address information from the bottom to the top of the mailpiece. City, state, and zip code information should always be the very last line in the address. The delivery address line just above the city, state, and zip code is where the USPS will attempt delivery.
Return Addresses
All university business mail must include a return address. This is also a security requirement of the USPS. View examples on how to format Michigan State University addresses.
Window Envelopes
Nothing should show through the window except address data. The complete address should be visible at all times. To make sure your address is visible, do a simple "tap-test." With the mailpiece in the window envelope, tap the envelope to the right, left, and bottom. You should be able to see all of the address information with the full shift of the mailpiece.
Adhesive Labels
Place address labels uniformly, avoiding skew—should be skewed less than 5 degrees. Avoid using shipping labels that contain both a return and destination address on the same label. Labels should include only one address, otherwise the USPS automation equipment may read the wrong address.
P.O. Boxes
The only carrier that can deliver to P.O. boxes is the United States Postal Service (USPS). Other carriers (e.g. DHL, FedEx, UPS) will not be able to complete delivery when a P.O. box is listed as the delivery address.